Join us for our 34th Annual Phoenixville Run Re-imagined!
This year we're going virtual and varied!
You have three weeks, from October 3-24 to cover the distance of your choice, anyway you choose!
You can run, bike, swim, roll, walk, skip or ride your horse! Register as an individual, create your own team, or join an existing team! Click here to register.
Choose from a 5k, 10k, or design your own challenge!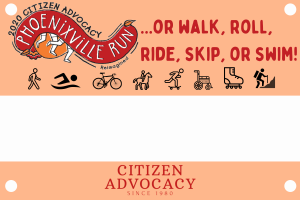 Right click to save and print your own bib!
Thank you to our Phoenixville Run 2020 Sponsors!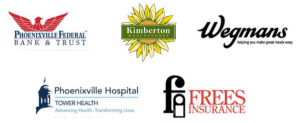 Phoenixville Federal Bank and Trust
James Norris and Family
Rebecca Bradbeer
Ken and Moira Mumma
Although we are not publishing an ad book this year, we wanted to recognize and thank everyone who contributed last year. Thank you!
Agway, Pughtown  |  Applied Environmental Science  |  BB&T  |  Baer Romain & Ginty LLP  |  Bause Catering Events  |  Bethel Baptist Church  |  Better Homes and Gardens Real Estate  |  Bistro on Bridge  |  Black Forest Auto  |  Breuninger Insurance  |  Bridge Street Chocolates  |  Campbell-Ennis Klotzbach Funeral Home  |  Camphill Soltane  |  Carnevale-Eustis Architects  |  Century 21 Norris-Valley Forge  |  James A. Cochrane Realtors  |  Colonial Theatre  |  Cornerstone Group  |  Crossfit Proven Fitness  |  Customers Bank  |  Davey  |  DeMont Construction and Design  |  Debbie and John DeRito  |  Devlin Rosmos Kepp & Gatcha Funeral Home and Cremation Services  |  Michael Drohosky DPM  |  Ellie's Choice  |  Elves  |  Factory Hardcore  |  First United Methodist Church  |  Mary Foote  |  Ford Associates  |  Gateway Pharmacy  |  Generations  |  Giardina Insurance and Financial Services  |  Gilbert Family  |  Hartman Family  |  Herbein & Company, Inc.  |  Honey Brook Custom Cabinets  |  Sue and Curt Huston  |  Ideas Bookstore  |  Iron Cross Athletics  |  Ken's Automotive  |  Kessler Dental Associates  |  Kimberton Inn  |  Kimberton Waldorf School  |  Konell Insurance  |  L&W Group  |  Level Seven Salon  |  Alison Locke  |  Loven Family  |  MRA  |  Maddie's Castle  |  Meaney's Carpets  |  Molly Maguire's  |  Dennis Morgan  |  Marian and Dave Moskowitz  |  Multi-Financial Services Co.  |  Naturescapes  |  Nick Nauta Painting  |  Nectar Yoga  |  Office Furniture Concepts  |  Optima Computer  |  Ott's Automotive Service Center  |  Party Center  |  PayUSA  |  Pennypacker Florist  |  Phoenix Disposal  |  Phoenixville Animal Hospital  |  Phoenixville Area Children's Learning Center  |  Phoenixville Area Senior Center  |  Phoenixville Community Health Foundation  |  Peg Reitnour  |  Renninger's Farm  |  Rotary Club of Phoenixville  |  St. Peter's Bakery  |  St. Peter's Episcopal Church  |  Seven Stars Farm  |  Seven Stars Inn  |  Singing Dog Vanilla  |  Spirit of Gheel  |  State Farm Insurance, Beaudoin  |  Stove Shop  |  Tolsdorf Oil Lube Express  |  Tomahawk Landscaping Services  |  Unruh, Turner, Burke & Frees  |  Antony Vickery  |  Village Optical  |  Visual Edge  |  Weitzenkorns  |  Wellspring Physician Acupuncture and Healing Arts  |  West  |  Timothy Wilfong, Esq.  |  Amy Wilson Massage and Yoga  |  Young Family  |  Ken and Sandy Zimmerman  |